classes and events
To register for any of ourclasses please click here https://squareup.com/store/beagle-ridge-herb-farm
Lavender Academy 2019
July 13 and 14th 10-5 and 9-3 respectively
Join us for a 2 day intensive workshop which covers Lavender 101 and Beyond. The first day will be informational, how to pick your varieties, grow, plant and harvest as well as learning how to prune and rejuvenate plants with hands on activities in the gardens. The second day will be value added with recipes and hands on classes including soap making, lotion bars bath bombs and lots more. 2 lunches, snacks and drinks are included. Registration is limited, so sign up early
Click here to register https://squareup.com/store/beagle-ridge-herb-farm
*********************************************************************************
June 20-23 and June 27-30 Pick your own Lavender
$5.00 a bunch, cut your own fresh bunches of Lavender from 10-5, we will provide the scissors and instruction. Why buy a dried bunch when you can cut your won fresh Lavender.
********************************
Lavender Academy July 13, 14
Join us for an intensive 2 day workshop into the world of Lavender.
***************************************************
August 10- 11th Lavender Academy
************************************************************
August 17th
Lavender Wreath Class 1:00
using dried lavender and dried flowers create a wreath which will grace your all for years. All materials included $35.00
***********************************************************
Sept 8th Essential Oils 101 11:00
Learn how to use these amazing oils. This is not a sales pitch for at company , our focus is safety and usage of essential oils for health, cleaning and general enjoyment.
Always Safety first, being natural does not mean it is safe.
*************************************************
Sept 22nd Lavender/Fall Wreath class
using a grapevine wreath and dried flowers from the gardens learn how to make a beautiful wreath which will be perfect for your fall décor. $35.00 all materials included.
*******************************************************************************
Oct. 5th- Herbal Oils and Vinegar
Using the bounty of our garden, and yours, learn how to create delicious, pretty and wonderful gifts from your harvest. Feel free to bring what you have grown but we will provide everything you need for this fun and tasty class. 1:00 $15.00 all materials included
*******************************************************************
Oct 12th Spa Day- Don't you deserve to be pampered? Well, in this class you will learn how to make bath bombs, skin softening salves and more.
Make for yourself, for Christmas gifts or even to sell. Space is limited so register early. class will be 1:00 until....
$30.00 all materials and recipes for you to take home are included.
*************************************************
December 7th Annual Open House and Christmas wreath class, see our full description below.
Our classes always sell out so be sure to register early for this one. Come make a decorator wreath we call the forever wreath.
You will make a live wreath which will slowly dry into a fabulous wreath which can stay out year round.
Learn how to work with Christmas greens, make a wreath or a swag, new this year.... learn to make a bow, without a bow maker! All materials including ribbon in included.
$40.00 per person, registration required.
To register for any of these classes click on our Products page and then click on NEW SHOP this will take you to our registration link.
If the date is more than 90 days out we can not take payment so send us an email and we will invoice you closer to time.
Essential Oils 102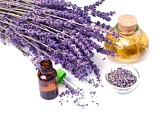 $ 15.00 USD
Oct 6th 1:00
Join us for an advanced version of Essential oils 101. Learn how to blend various Essential oils to make products you will use around the house, including cleaning products, oils or your helth and so much more. Take home samples that you have made. Remember safety first when it comnes to using Essential Oils.
Herbal Oils and Vinegars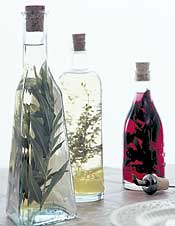 $ 15.00 USD
Oct 6th 1:00
Join us for a fun and tasty class where you will be making a variety of herbal oils and vinegar using both fresh and dried herbs. Why spend a fortune on these tasty additions to your cooking arsenal when you can create your own? A perfect way to preserve your summer bounty from the garden, use them all winter and make great Christmas gifts for next to nothing.
Join us on the first Saturday in December, Dec 1st for our Annual Open House.
We also hold our annual wreath class, scroll down to see pictures, that afternoon at 1:00
Hope you can join us this year.
This is not any normal wreath, we call it a forever wreath . Make it one year and then keep it forever. Check out the pictures below which are from a previous class.
Take a LIVE balsam wreath and decorate it for Christmas and beyond. These wreaths will dry naturally and you will be able to use them for years, yes years. The Balsam will naturally turn a fabulous shade of brown, the needles will not shed and you will have a "decorator"wreath which will be the envy of your friends. Not your average christmas wreath! $40.00 per person- all materials included.
I have one 27 years old, scroll down to see my wreath. If you have been to the farm it is on the door into our butterfly room. It began as a green fresh wreath and was decorated with cockscomb, hydrangea and pinecones. It took almost three months for it to darken but it now looks like a decorator wreath and is left out year round.
Why make a wreath that you will to throw away after the season?
Registration is required, class is at 1:00 and the cost is $40.00 which includes all the materials and refreshments. This year you will actually learn how to MAKE the wreath or a swag and then decorate it. If you just want to come decorate one, come a bit later. We have wreaths ready to be decorated too.The class will be in conjunction with our Christmas Open House which will run from 10-5.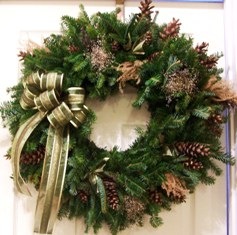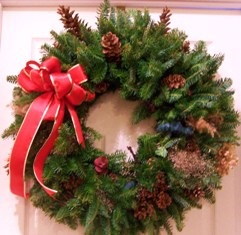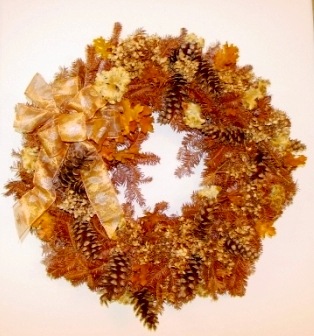 The third Saturday of June is our Annual Lavender Festival, Lavender Thyme, so be sure to mark your calendar and plan to join us next year. This coming year we will be expanding our U Pick Lavender activity and will have three weekends of U pick Lavender.
An optional lunch is available, for $12.50, with reservations .
Southwest Virginia is home to several Lavender farms; to visit other farms in our region visit The Southwest Virginia Lavender Trails site at www.Lavenderthymetrail.com
The last few weeks of June are bloom time for us here in Southwest Virginia.
Be sure to Like us on facebook at www.facebook.com/beagleridgedge to keep up with our events.