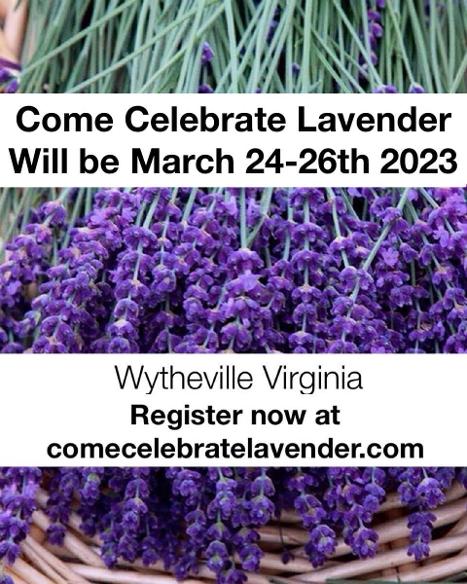 Join us in Wytheville as we celebrate Lavender 2023
Our registration website is now complete, go to Comecelebratelavender.com
Come Celebrate Lavender 2023 coincides with the 5th anniversary of the Lavender Academy. Over the years, students from 32 states have joined us at our farm in Wytheville to learn about Lavender. Lessons included choosing the right cultivars for their various locations, planning, planting, harvesting, using and marketing their product and farms. Our hands on approach teaches so much more than any online presence can provide. we will have 3 sessions again this year, April, July and September.
Come Celebrate Lavender will be held in town, at the Wytheville Meeting Center, since Beagle Ridge will not be able to handle the projected attendees. Let us show you how to immerse yourself in this Lavender journey.
" Come Celebrate Lavender Novice to Expert we never stop learning" is an appropriate tag line for this conference. Our speakers come from both the Lavender and business world and will share their knowledge from the basics of growing Lavender, to the science behind creating a quality Lavender Essential oil. After growing Lavender for 21 years I realize every day there is still so much to learn about this versatile crop.
Our speakers list is final our schedule has been published and we are looking forward to this amazing conference being here in our beautiful area. We have 3 tracks of sessions- Business, Growing and Products with 20 different sessions and 3 hands on sessions. The hands on sessions will have limited attendance due to the hands on component.
Registration is now open at Comecelebratelavender.com
© Copyright Beagle Ridge Herb Farm